Available payments
At our site, we offer different payment methods to ensure maximum flexibility and convenience to our customers. Choose the option that best suits your needs from the following:
Credit card:
We accept payments with major credit cards, including Visa, Mastercard, American Express, and others. Simply enter your card details during checkout and confirm your order. Credit card payments offer a fast and secure payment method.
Debit cards:
We also accept debit cards, such as PostePay, rechargeable cards and others. During checkout, you can enter your debit card details and complete your order easily and securely.
PayPal:
We are proud to offer payment by PayPal, a secure and widely used method worldwide. If you have a PayPal account, you can make the payment using your available funds or by linking your credit card or bank account to your PayPal account.
Bank transfer:
For those who prefer to make a bank transfer, we provide our bank details to allow a direct transfer of funds. Please note that bank transfer payments may take longer to process than other payment methods.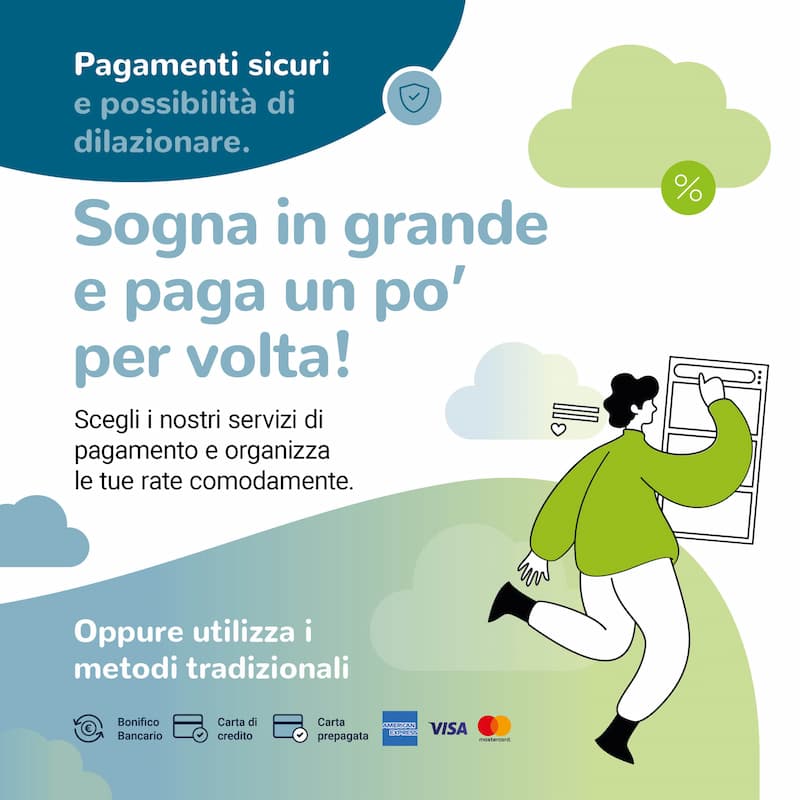 Installment payments:
In addition to standard payment methods, we also offer the possibility of interest-free installment payments. You can choose one of the following options:
PayPal Later: With this payment method, you have the option to split the order amount into three installments. This option is available for orders with a maximum amount of € 2,000.
Simple recessed: This option allows you to divide the order amount into three installments. However, you must have a credit card to use this payment method. The first installment will be charged at the same time as the order, while subsequent charges will be made every day 5 of the following month.
Choose the payment option that best suits your needs and enjoy a convenient and secure shopping experience on our site. If you have any questions or need assistance, our customer service will be happy to help you.