About us
Packaging-Online.it is the result of a mission started in 2015, with the aim of simplifying and making it pleasant for our customers to create a customized packaging with just a few clicks. Our team, young but with over ten years of experience in the packaging sector for food, e-commerce and large-scale distribution, is much more than that. We are passionate about beauty, lovers of good food impeccably presented. We are reliable partners who focus on finding the solution that best suits your needs. We are creative with a vision, ready to offer advice on the most suitable design for your brand.
For years, we have been working to overcome the barriers of e-commerce and guarantee our customers all the advantages of the online world, without compromises or nasty surprises. With our samples, you will have the opportunity to evaluate the quality of the products and check if the chosen product corresponds to your expectations.
We were born with the aim of offering all companies and brands, regardless of their nature, size and popularity, the possibility of creating customized packaging in line with their needs and identity. We are your new partner for customizing, packaging and supplying customized packaging and packaging, ensuring reduced costs and minimal production times.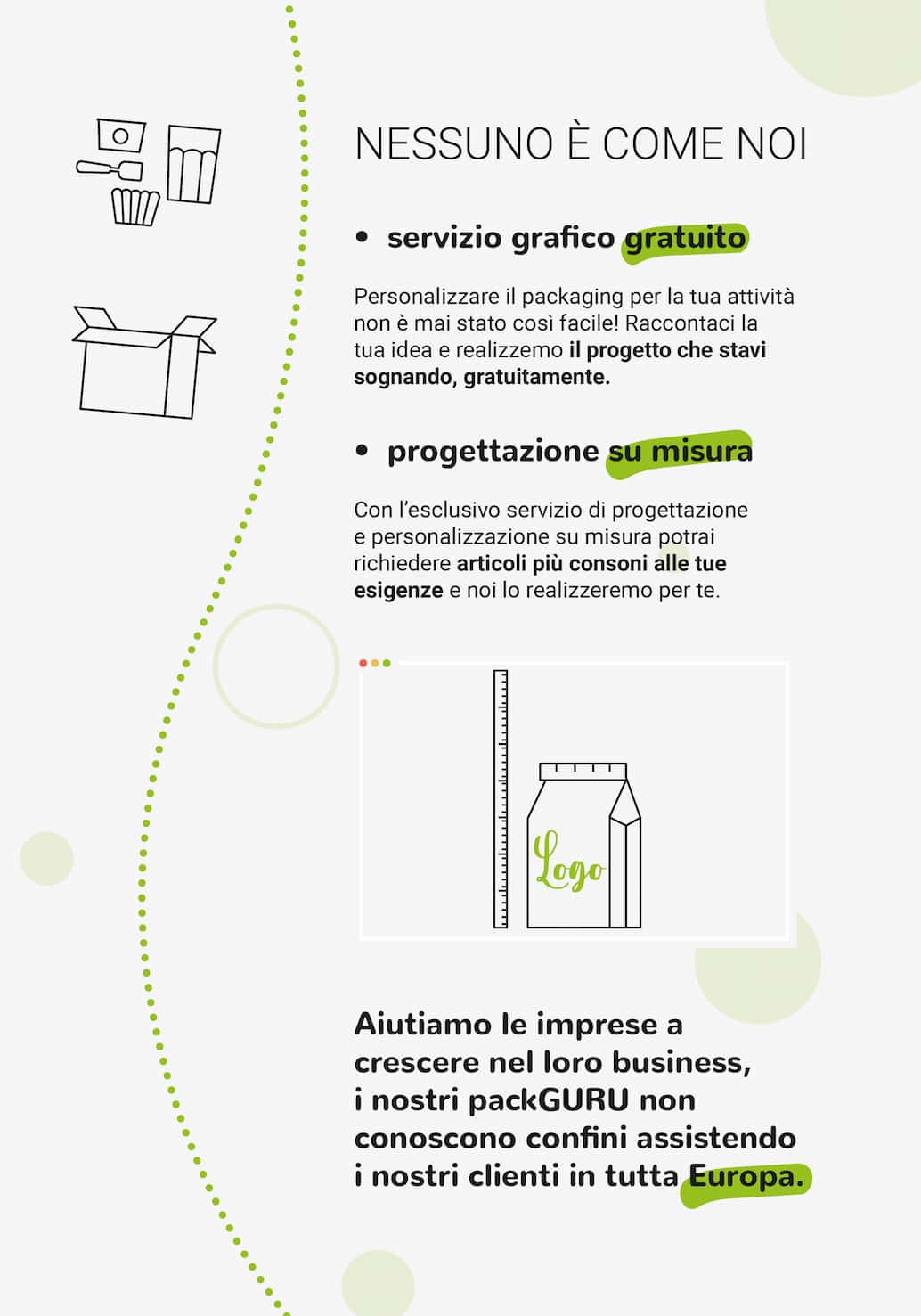 Why choose us?
Creativity:
Create your own custom template, easily upload it to your account and create the packaging of your dreams. If you need graphic assistance, our designers are ready to help you develop new products that increase awareness of your brand. Trust them, the customization service is completely free!
Wide range of products:
We offer the highest quality packaging printing for your business needs, such as panettone boxes, ice cream logs, cakes, e-commerce shipping boxes, glasses, cups, placemats, ice cream tubs, fried cones, napkins, trays, cups, envelopes, bags, and much more.
Sustainability:
We have a wide selection of sustainable products made from recyclable, compostable (such as Paper2Paper cups and cups or PLA cups) and reusable (such as cardboard boxes) materials.
Reduced minimum order:
Many of our products are available in small quantities, making the service accessible to businesses of any size and with different needs. In addition, we offer a free storage service that allows you to order larger quantities without worrying about storage space, being able to decide the volume and time of each delivery.
packGURU Customer Support:
Our customer support team is always available! If you have any doubts, want more information or need help in choosing the most suitable packaging for your business, we are here to help you select the ideal item. Contact us!
Packaging-Online is a trademark of P&F Packaging & Food srl, a production company specialized in the packaging sector for food and packaging machines.
Packaging-Online.it: Easy, fast, convenient!